Nicki Minaj Reacts to Husband's 120 Days House Arrest Following Viral Video of Death Threats Towards Offset, Cardi B's Husband. In a shocking turn of events, Hollywood All has uncovered the truth behind the recent threats that have sent the showbiz world into a frenzy. It has been revealed that the catalyst for these threats was a message sent from Rapper Offset to a close friend of Nicki Minaj's husband.
The video capturing these threats quickly went viral, causing a stir among fans and industry insiders alike. However, just when we thought things couldn't get any more intense, the authorities stepped in. The Feds have now become involved in the case, resulting in Nicki's husband being sentenced to a 120-day house arrest. Following this, Nicki Minaj took to her Instagram account to address what she believes to be a coordinated hate attack orchestrated by her rivals and industry players. The renowned rapper, who has been making waves in the music scene for years, expressed her frustration with the situation.
She posted Quote "2 times my home was surrounded by large guns. This person wanted a family with a 2 year old to be shot at. Yet, nothing on any blog. 🧐 This same person made a false claim to CPS. 🤔 When you have snitches in high places of the music industry who don't want you to win but realize they can't stop you because God's anointing in my life is very real. 🤪 Funny how this person hasn't been found, mentioned, arrested, nada. QUEEN RADIO LIVE FROM NEW YORK TMRW AT 4PM EST. It's still protect black women or nah??? no sympathy needed. #BigDifference snippet alone doing numbers on tiktok. Bodied the VMAS. #PinkFriday2 is SOOOOOO GOOD!!!! OMGGGG CANT WAIT FOR U GUYS TO HEAR IT. Make a video using #BigDifference & #LastTimeiSawYou & tag me barbz. Love youuuuuuuuuuu 😝🎀🫶🏽 it's great when your label is excited about your album 🎀"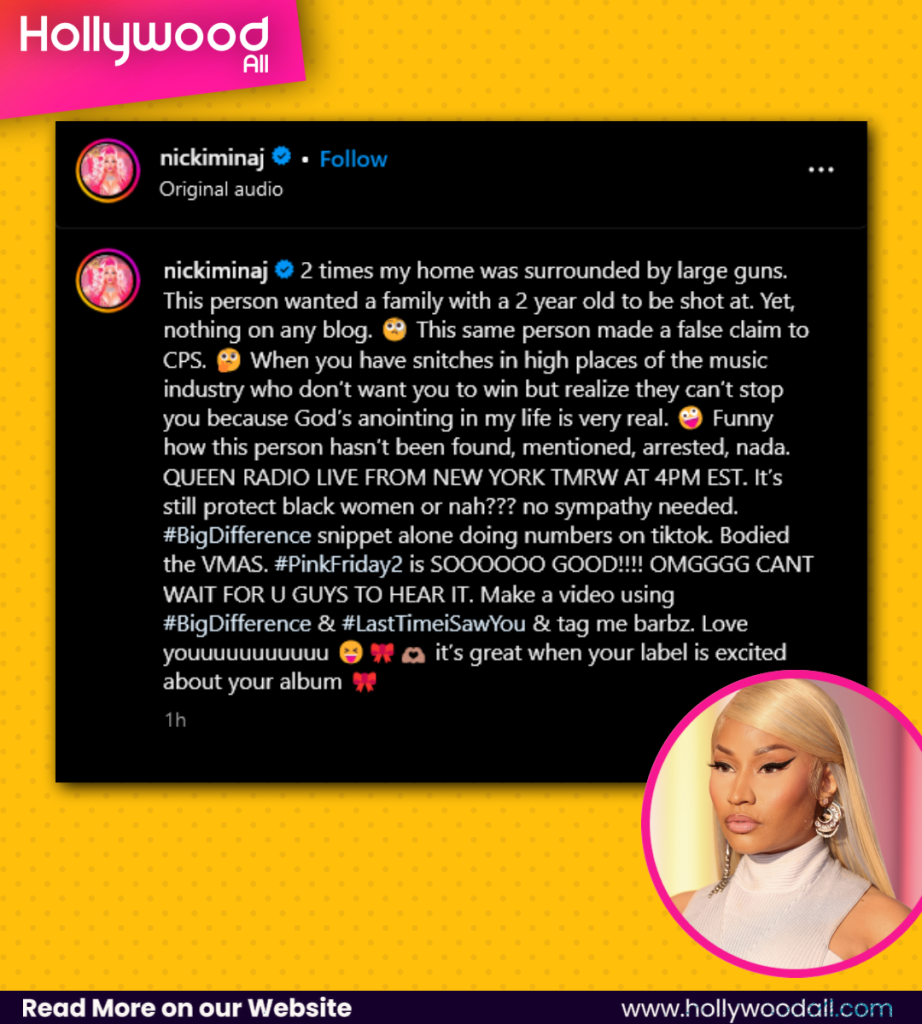 According to Nicki, this whole development is a result of a targeted effort to bring her down. She even claimed that her rivals and industry players recently swatted her house for no apparent reason. In a post on Instagram, she asserted, "This is a clear example of a coordinated hate attack directed towards me by those who envy my success." Fans and followers of the artist were quick to show their support, rallying behind her during this challenging time. Many expressed their disbelief at the alleged actions of her rivals and industry players, urging Nicki to stay strong and not let the negativity affect her.
As the news of this alleged hate attack continues to circulate, it remains to be seen how Nicki Minaj will navigate through this situation. One thing is for sure, though – her loyal fan base will undoubtedly stand by her side, offering their unwavering support. Stay tuned for further updates on this developing story as we bring you the latest details on Nicki Minaj's battle against the alleged hate attack.