Social media over the past days have been fueled with Reports of comedian Steve Harvey and wife Marjorie going through a Divorce, per the monitored reports accounting for the reason behind this Break Up of the Harvey's. It suggested Marjorie, Steve's Wife was having an affair with his own Bodyguard, and this was usually in Steve's absence.
But exclusively we are learning this information is nothing short of a rumor, and per Hollywood All's investigation we are learning Steve Harvey's Bodyguard is still at Post as his senior security Personnel and his Wife Marjorie is very much happy in their marriage and not seeking any divorce as speculated by some media Portals.
But in all, "Hollywoodall.com" have digged to find the pictures and photos of the Steve Harvey's Bodyguard in the center of this whole controversy and conspiracy of Steve's Divorce. Per the images below, Steve Harvey and his Bodyguard (Name With-held) have even gone on Vacations and had various Photo-shoots as insider reports reveals, Steve Regards his head of Security more like a Brother and see's Steve's wife as a family whom he much respects.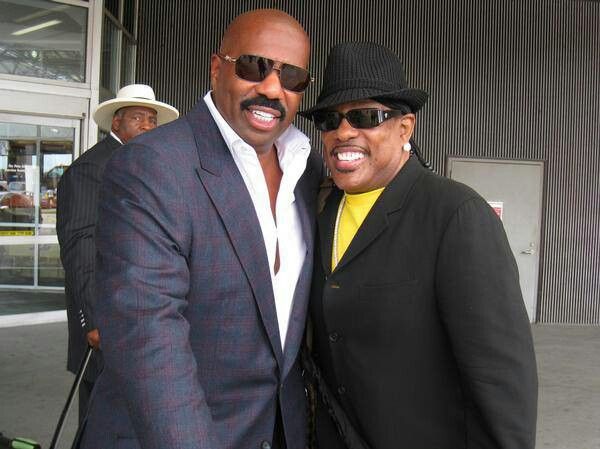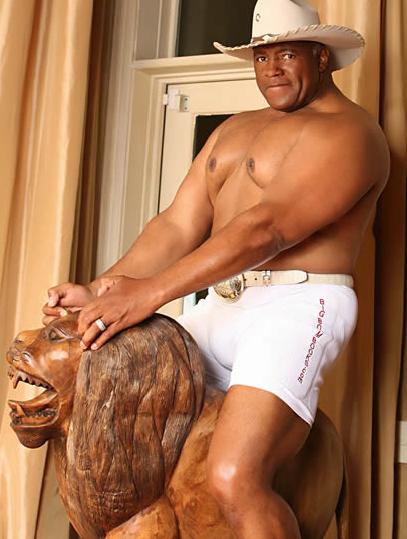 So How did this Rumor Start..? Steve Harvey's online Rumor was started on social media, precisely Twitter (Now X) and Tiktok. But over the past days it has been fueled by many unverified Blog and Online Portals
How True is this Rumor of Steve Harvey's Divorce..? Steve's Divorce is confirmed to be false, as some of his Closest friends, one named "Mr Ned Nwoko" from Nigeria posted on his social media on Twitter and Instagram Stating he personally called Steve Harvey to inquire of the Divorce Rumor and was told by Steve and his Wife Marjorie, those Rumors are false and both Pairs are doing just fine. He posted Below!
"Fake news has been taken to new heights all over the world and this is so unfortunate. We experience this practically everyday and so when we read about our friend Steve Harvey and his lovely wife having issues, we had to contact Him and He confirmed that he and his wife are very much okay and it's all fake news and should be disregarded. The family is happy together and we wish them all the best"

Post from Steve Harvey's Longtime Business Partner on Instagram (Screenshot Below)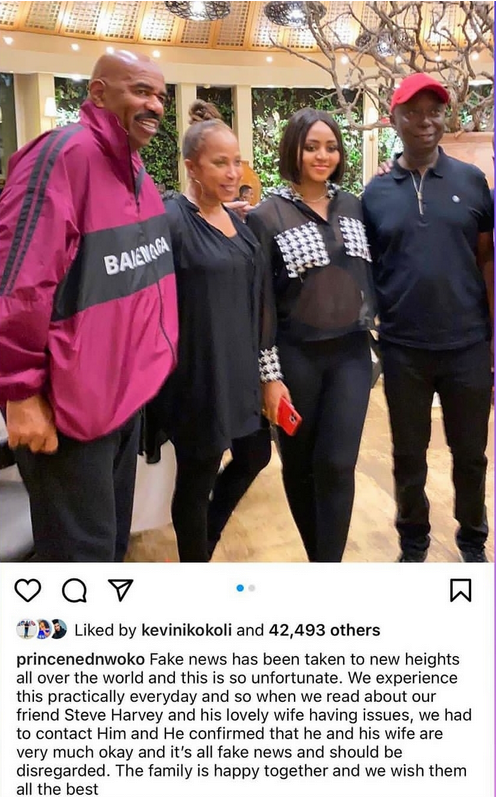 Whats Next for Steve Harvey…? Steve Harvey's Team have not responded to the Divorce Rumors and an insider has revealed to Hollywood media Outlets, they intend not to, as doing soo only fuels such extreme rumors and choosing to handle everything privately, and as long as they both fine, they need to not explain how their marriage is going on social media. Hollywoodall.com will keep you posted on the next development of the Steve Harvey Marriage Rumor's.